Maybe it has something to do with bad memories of childhood camping trips gone wrong, of the times you were dragged along by your parents and made to eat crackers and stale sandwiches from plastic plates. There is something nostalgic about that, but it's probably not inspiring you to pack up and head off in search of the nearest campsite.
We get it, too. Wild Camping is about adventuring, about exploring the great outdoors and pitting your wits against the elements. It's about having the chance to see the stars for once, and honestly, you don't always get that at a regulated campsite.
That's something we ought to mention before we get into this; wild camping isn't regulated, and if you're not careful, it's not strictly legal in a lot of places, either. What it is, though, is a chance to get as close to nature and great outdoors as possible, while keeping a few of the creature comforts you'll probably want as a modern camper. This is the Camping Things introduction to wild camping.
Wild camping: What makes it wild?
The modern idea of camping is kind of counter to the whole point of pitching a tent and sleeping outside. When you camp, you want to experience the outdoors in all its glory, but, as is the way in the UK, the experience has been regulated, mostly for health and safety reasons.
Standard camping requires that you pitch your tent on a designated camping site, which usually means setting up somewhere that looks more like a festival than a site of natural beauty. As a wild camper, you'll be setting up your tent away from amenities, away from any sort of reception office, and probably away from other people. At least, that's the idea.
Wild camping is defined as camping anywhere that's not a regulated camp site. That doesn't mean your back garden or the local park, but more likely a glenn, mountainside, or somewhere along the trail you're hiking. As mentioned, wild camping isn't strictly legal for a couple of reasons. First of which, is that you could be on someone's land. You might not realise it, but the trail you're on could be part of an estate, or, if it isn't, it's either protected or belongs to local government. Seek permission for wild camping wherever possible, just to cover yourself.
Another biggie is that you can't wild camp closer than 100m from any road or settlement. If you do, you might be risking your own safety, or the safety of others, and your new temporary neighbours might not be so keen to have you hanging around.
Where can you wild camp?
Your best bet is to seek out places that are truly wild. By that, we mean mountains, valleys and wide open spaces. If you're hiking on a trail, set up camp away from where people are walking. Don't put yourself in danger, but the idea is to be as secluded as possible. Find a place where you can see the stars and where you're not going to be disturbed by the sound of traffic, and you're good to go.
Wild camping is a great chance to experience camping for what it's meant to be — an opportunity to enjoy the outdoors. That doesn't mean you have to give up decent food or a good, warm shelter, on the contrary, you can keep all of those things and not feel cheated by the presence of a help desk fifty meters from your tent. You'll be more self-reliant, but if what you're after is a true camping experience, then getting away from the childhood nightmare of a cool box full of bad sandwiches is going to reignite your love of camping.
Shelter for wild camping
Don't overthink this. All you really need for wild camping is a good strong tent and a warm sleeping bag. Camping Things have review some of the best, most value for money tents around, and for wild camping, the extreme weather ones are really the best.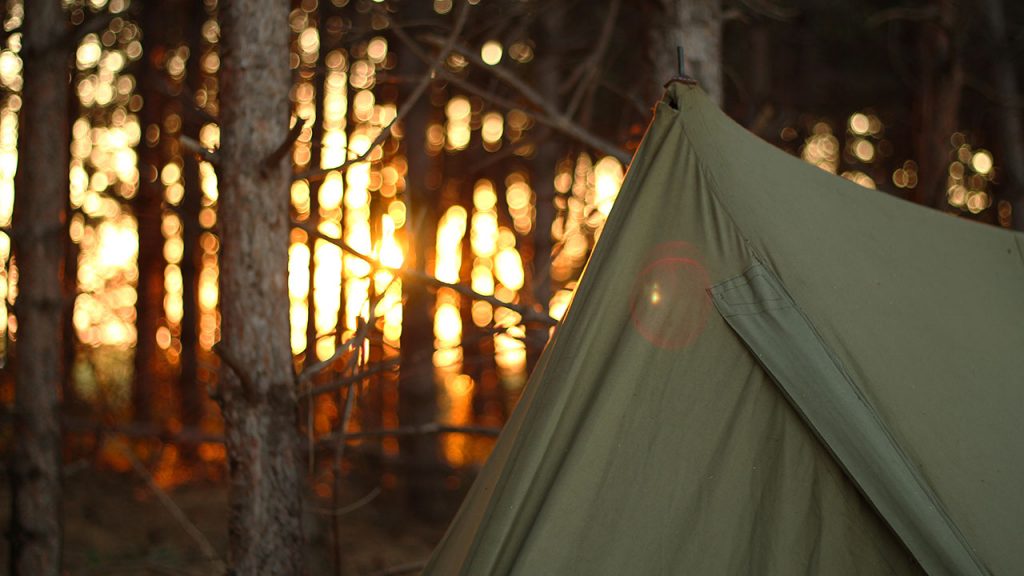 Any tent that's low to the ground with a solid windproof design is going to be your best option, and if you can, make sure to pitch away from the direction of the wind, so that it doesn't blow into your front door. Simple, right?
Try and find a tent with a ground sheet, too, since the floor underneath your wild camping spot is likely to be less forgiving than the ground at your standard camp site.
Food and drink for wild camping
You're unlikely to be able to drive up and keep your supplies within reach in the boot if you're wild camping. We'd suggest stocking up on canned food, boil in the bag meals and protein bars before heading out. Dried fruit is good shout, too, and if you can using boil in the bag meals, use the water to make a hot drink afterwards.
For cooking and heating on a wild camping trip, we recommend a biomass burner. They're more eco-friendly, and can be used as both a clean and safe cooking and heating source. We love the BioLite burners. Read our full guide to camping stoves here
Rules and etiquette for wild camping
Be considerate when wild camping. There's nobody there to clean up after you, or to tell you off if you're a bad camper, so just be mindful of the environment and of other people.
Don't start fires on the ground, don't use more energy than you need, and don't be overly noisy, even if you are in the middle of nowhere (wildlife likes to sleep, too.)
Take all food waste and packaging with you (100% do this, please don't litter if you're wild camping) and be respectful of other wild campers. They're way out there because they want to have their own experience, so be friendly, but respect their privacy, too.
If all you want is to sleep somewhere outside, and you're not particularly fussed about seeing what the world really has to offer without our fooling around with it, then stick to regulated camping sites. But, if you'd like a taste of what camping is really all about, then check out wild camping.
It may be a little cold at the minute, but then that's part of the fun. Visit the Camping Things review sections, and buy yourself the right kit, and make your next trip away a wild camping one. We're certain you won't regret it.
Please follow and like us: